Crispy Baked Sweet Potato Fries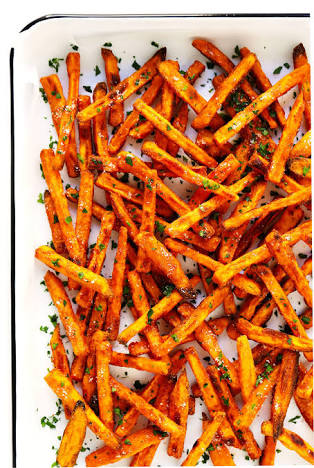 Are you looking for a crispy sweet potato fries recipe this weekend?
My sweet potato fries recipe will be at hit at home. They are salty-sweet, crunchy, and tasty. Baked sweet potato fries have been one of my side dish favourites for years.
First prepare your chips or fries. Wash, then cut the potatoes into chip shapes of your choice.
Once you have cut the potatoes into fries or chips, place in a large saucepan and cover with water. Add a pinch of salt, then place over a medium heat. Bring to a boil for 2 or 3 mins then drain. Par boiling the chips helps create the crispy effect when baking.
In a bowl, coat the fries in buckwheat flour or any flour you have available – I prefer the taste of buckwheat. Season with salt, paprika, pepper and herbs of your choice.
Place in a non-stick baking tray (use baking paper) and drizzle over olive oil, sprinkling of a little more salt, pepper plus the sprigs of thyme then bake for around 25-30 or until golden and crispy.
Enjoy 🙂 I made homemade burgers using the low carb buns from Aldi with the sweet potato fries. So so good! Check them out next time you are in Aldi.
START TODAY
Join my Zoom Class Pilates, Band or Yogalates.

Monday at 8am Band Strength
Tuesday at 9.30am Yogalates
Thursday and Saturday at 9.30am Pilates
Download my cookbook