"So seeing as we're already in August, I would say you'd want to start now if you want to get in shape for spring!
From the top selling fitness DVD range
Ultimate 4 in 1 Toning Workout
Cardio Fat Burner
Resistance Band Workout
Fitness Pilates
Stretch
Lose weight and tone your body fast
kout that gives you results fast.
THIS REVITAZLIZING, FITNESS WORKOUT HAS BEEN TAILORED FOR YOU TO PERFORM IN THE COMFORT, AND CONVENIENCE OF YOUR OWN HOME OR HOTEL ROOM.
It's easy, simple and it works.
Rocco will guide and motivate you on your health journey so you can achieve results. He understands we are all time poor but we all need to take time to invest in our health.
The Body Transformation Program has four unique workout components. Starting with a warm up, The program guides you through a 10 min Cardio Fat Burner interval training session to help spike your metabolism to burn calories and kick-start the hormones that make us feel fantastic. Followed by a Resistance Band Workout which includes:
10 minutes of Upper body – focusing on arms and back to increase muscle condition and metabolism.
10 minutes of Lower Body – focusing on Gluteus and Thighs to tone and improve strength.
The Body Transformation program also includes a 30 minutes beach fitness Pilates. This will increase abdominal and back strength, as well as maintain postural alignment. Ending with some important Stretches and Relaxation, for that total bliss and good feeling.
The DVD includes a free e cookbook and cooking class.
"Melbourne based Personal and lifestyleTrainer, Rocco Sorace has 10 years experience working in the fitness industry throughout Norway, Greece and Australia. He has guided and trained many clients to transform their bodies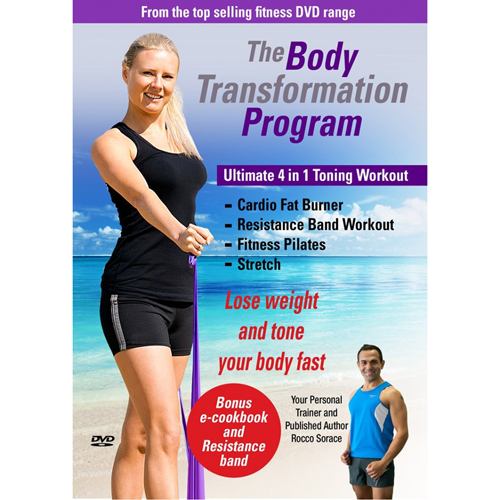 https://vme.239.myftpupload.com/product/the-body-transformation-program-dvd/