Meat free meals can be really satisfying!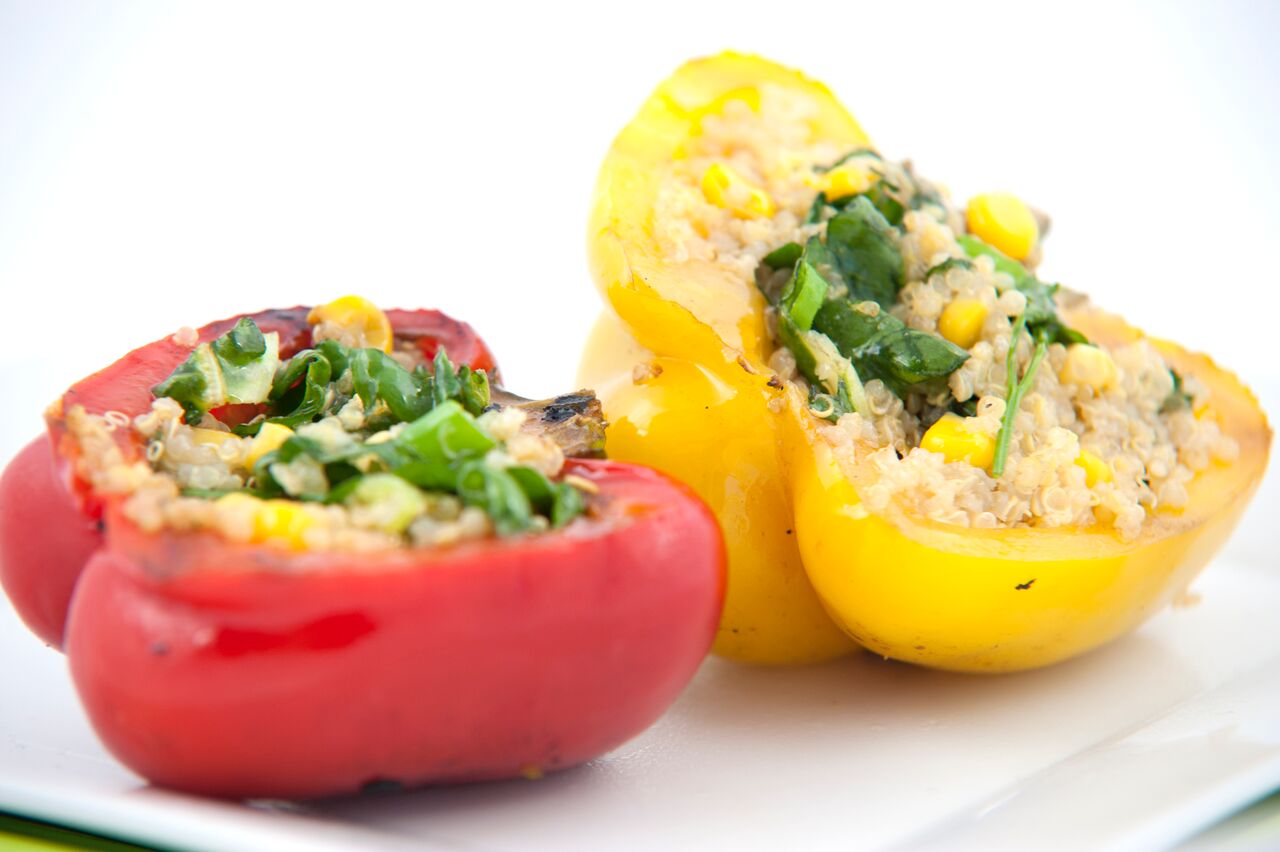 Quinoa-Stuffed Peppers
Quinoa, known as the 'mother grain', is a powerful immunity booster that keeps you fuller longer.
Serves 2
2 large red capsicums
½ cup sliced spring onions
½ cup parsley, finely chopped
1 clove garlic, finely minced
1 cup quinoa, cooked
1 tsp. paprika
1 small can of corn kernels
¼ tsp. salt
¼ tsp. ground black pepper
2 Tbsp. fresh basil, finely chopped
½ cup silver beet, chopped
½ cup Parmesan cheese, freshly grated
Fresh basil for garnish
Preheat the oven to 180°C (350°F).
Slice the capsicum in half vertically. Remove the pulp and seeds from the inside.
Add the onion, carrot and garlic to a non-stick pan. Cook 4–5 minutes until vegetables are tender.
Add the cooked quinoa, tomatoes, salt and pepper. Continue cooking for 3–4 minutes until heated through. Remove from the heat and add the fresh basil.
Place the pepper halves on a baking dish, and fill each cavity with about ¾ cup of the quinoa mixture. Bake for 15 minutes.
Set the oven to 180 degrees. Sprinkle the Parmesan cheese evenly over the stuffed peppers. Bake for 20 minutes, until lightly browned.
Nutritional Information / per serving
Energy 552 kJ (132 cal), Protein 7.7 g, Fat 4.6 g (Saturated 2.4 g), Carbohydrates 13.1 g (Sugar 2.9 g), Sodium 547 mg
The benefits of going meat free:
Apart from the ethical side, there are many other benefits to going meat free even for a day, such as: it benefits the environment and is also good for your health and wellbeing.

Having a few meat-free meals each week is a great opportunity to explore other nutritious alternatives and a more plant-based diet that consists of fruits, vegetables, and beans as alternatives to meat.
Researchers now believe reducing your daily/weekly meat intake can help:
Fight diabetes  and Lower cholesterol and control blood glucose: Beans and lentils are all low in fat and high in fibre – particularly soluble fibre, which helps to control blood glucose and cholesterol levels and also helps to keep you regular.
Help protect against cancer: reducing our intake of red and processed meats (The World Cancer Research Fund International recommends we eat no more than 500g of cooked red meat each week) and very little, if any, processed meat, which could prevent multiplication of sick cells
Reduce calories: A more plant-based diet contains fewer calories than animal-based foods.
Here are few recipes from my Cookbook Eat your Way Slim
Quick Tip
Double the recipe for an easy, ready-made lunch the next day.
Warm Tofu Chilli Salad
Serves 2
1 package of SlimNoodle Wok-Ready noodles (250 grams)
1 Tbsp. peanut oil
250g chilli tofu nuggets
2 carrots, peeled, cut into thick matchsticks
1 red capsicum, sliced
2 Tbsp. sweet chilli sauce
1 tsp. of soy sauce (salt reduced)
1 green shallot, ends trimmed, thinly sliced
Prepare Wok-Ready noodles as per pack instructions.
2. Heat half the peanut oil in a wok over high heat until just smoking. Add the tofu and stir fry for 2–3 minutes or until light golden and heated through. Transfer to a heatproof bowl.
3. Heat the remaining oil in the wok over high heat. Add the carrot and capsicum. Stir fry for 1 minute. Add soy sauce and stir fry until vegetables are just tender.
4. Return the tofu to the wok along with the noodles, sweet chilli sauce and green shallot. Stir fry for 1 minute or until well combined and heated through.
Divide among bowls and serve immediately.
Nutritional Information / per serving
Energy 1800 kJ (430 cal), Protein 31 g, Fat 15 g (Saturated 2.2 g), Carbohydrates 12.2 g (Sugar 7 g), Sodium 55 mg