Advance Fitness Pilates download
$5.95
The ultimate mind and body workout! Get strong and get fit inside and out!
Let this advanced Fitness Pilates mat based workout help tone your abdominal muscles, strengthen back muscles and improve your posture.
Fitness Pilates is a combination of Eastern and Western philosophies, drawing from diverse exercise styles delivering tremendous results to students who gain muscle while increasing flexibility. Fitness Pilates strengthens posture, improves self confidence and well-being through fluid movements involving control of the mind over muscles.
Shape up quickly with Fitness Pilates Advance Workout, a positive addition to your fitness regime, enhancing your total well-being.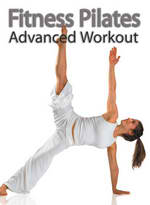 Description